Fraud Alert: We are aware of a card fraud phone/text scam that is currently targeting UMassFive members. Learn More.
×
One of the biggest misconceptions about Credit Unions is that membership is reserved for an exclusive few.
Truth is—we're much more open than that.
blue
/sites/default/files/styles/background_image/public/images/cta/iStock-857146092.jpg?h=790be497&itok=JnMgHdTh
While UMassFive originated by extending membership solely to the staff and students of the Five Colleges located here in the Pioneer Valley, we have grown pretty significantly over the years and now proudly extend membership to over 50 Local Organizations that share our vision and community-based values.
Take a look at our eligibility chart below to see how employees, students, and members of each of these groups qualify.
Not a member of any of those groups, but still want to join?
No problem.
blue
Think Local
One of the easiest ways to qualify for membership is to join one of the organizations we serve. UMassFive has established a mutually beneficial membership option with CISA (Community Involved in Sustaining Agriculture) that enables otherwise unqualified members to seamlessly open both memberships at once. By becoming a member of CISA, you will be eligible to join the Credit Union, and enjoy all the products and services we offer—plus you'll be supporting local farms, and the local food economy.
Sounds like a win-win.
Even better, we'll do all the work opening your CISA membership for you, and as a thank you for supporting local farms, your CISA membership is on us. All you have to do is let  the representative helping you know you'd like to join CISA as well. If you're opening your membership online, select "I am not sure" from the eligibility dropdown to begin the joint CISA application.
Check Your Tree
Did you know that if someone in your family or household is a member of UMassFive, you could already be eligible for membership? 
That means "family members" (Defined as: siblings, parents, children, or a spouse) and members of a "household" (Defined as: partners or roommates that live in the same residence, and maintain a single economic unit) of a member all qualify to join.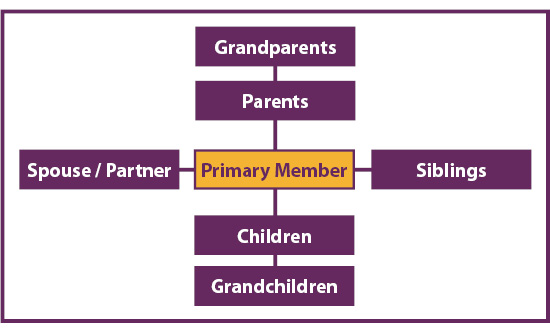 UMassFive Eligibility Chart