If you were wondering where everyone got those purple debit cards...
Every UMassFive Checking Account comes with our signature purple debit card. 
Printed & activated instantly at any of our branches—(no matter how many times you need a replacement)—secured by Visa®.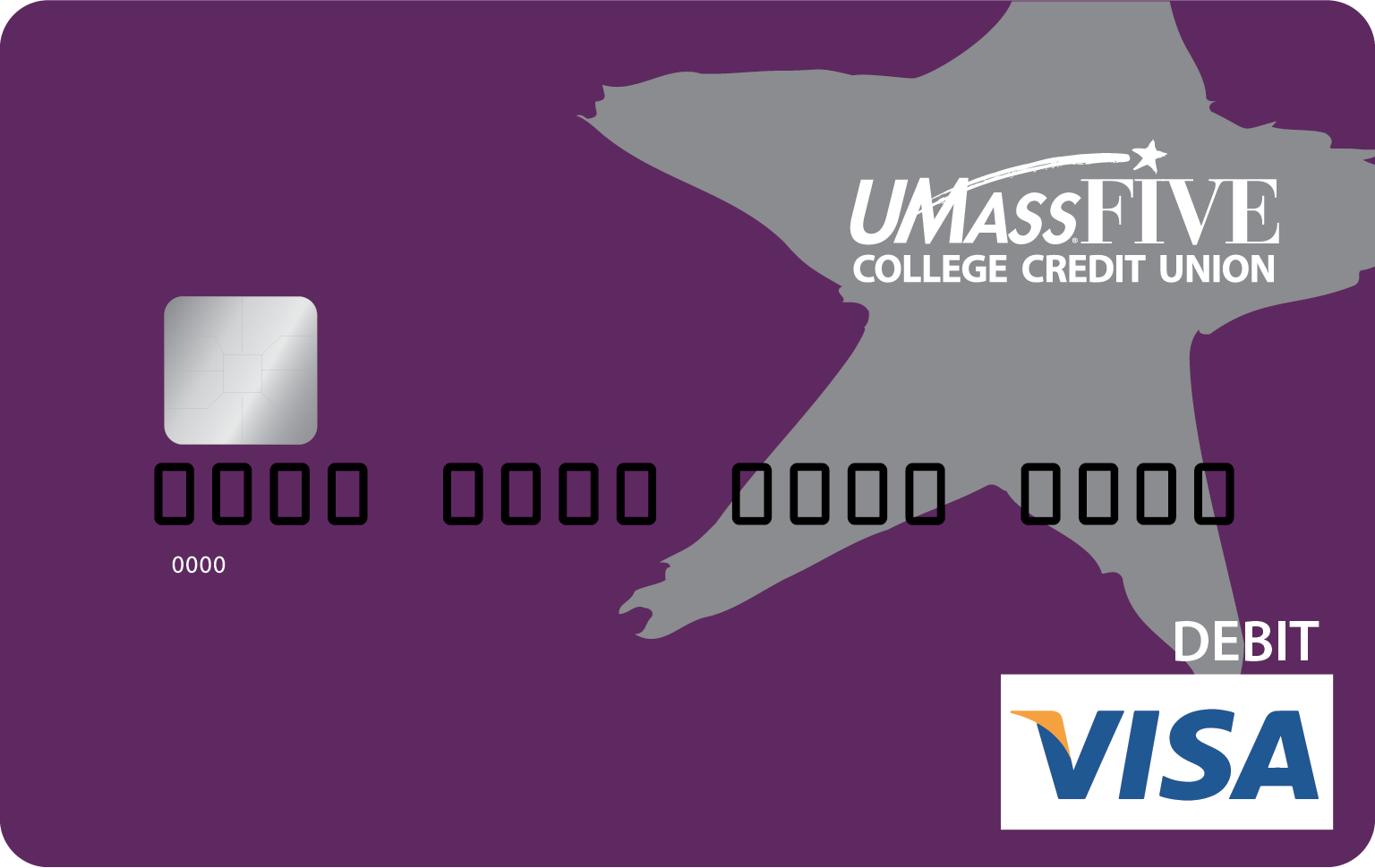 Local Bank, Trusted Security
We take security very seriously. Our debit cards have the following enhanced security features to protect you against fraud:
My Cards is built inside our Online Banking and Mobile Banking app. It allows you to turn your debit card on and off, set spending limits, and even restrict use of the card to a specific geographic GPS enabled location.
Note: When your Visa debit card is being used in an unusual location or manner, we take notice. Please let us know about your travel plans (such as vacations), to avoid any service interruption. If you believe there is fraud on your debit card, turn off your card by using My Cards and call 800-262-2024.
blue
uChoose Rewards
Enroll in uChoose rewards* so you can start earning points on every card transaction—you'll earn 0.5 points on every $1 spent that you can redeem for cash back!
Access uChoose through Online Banking, click My Cards, then click Rewards.
Access uChoose through Mobile Banking, click Cards, then click Rewards.
Debit Card Round Up
Build your savings with Debit Card Round Up!
Round each transaction to the nearest dollar, and we'll automatically put that change into your savings account.
Simply contact us through our Online Banking secure messaging service, and let us know which savings account you'd like to round up to. It's that easy!
/sites/default/files/styles/background_image/public/images/cta/ThinkstockPhotos-508316570-buzzedit_1.jpg?h=4d523210&itok=UE3GoVE1
*uChoose Rewards points accumulate automatically for all card purchases, and may be redeemed for rewards at any time via Online or Mobile Banking. Balance transfers and cash advances not eligible for points accumulation. See uChoose terms & conditions for additional information.